Published time: 19 Feb, 2019 11:36 Edited time: 19 Feb, 2019 11:48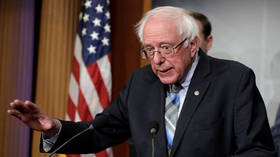 FILE PHOTO U.S. Senator Bernie Sanders speaks during a news conference on Yemen resolution on Capitol Hill in Washington, U.S., January 30, 2019 ©  REUTERS/Yuri Gripas
Bernie Sanders, who lost the Democratic presidential nomination to Hillary Clinton in 2016, says he will run again in 2020. The 77-year-old Vermont senator enjoys great popularity among millennials for his progressive ideas.
Sanders confirmed his plans in an interview aired on Vermont Public Radio on Monday. "I wanted to let the people of the state of Vermont know about this first," he said.
His official announcement video is expected to be streamed on Tuesday.
DETAILS TO FOLLOW